Preventing anonymous comments in WordPress
I value comments a lot, in fact, I look at the number and quality of comments on a post almost as much as I look at the number of shares, tweets and pageviews to determine how well a post was received. Recently I've done some posts that got a lot of annoying responses. Most of those were anonymous comments, which lead me to change my comment policies a bit to prevent those from happening in the future.
This tactic might work for more people, so I thought I'd share it:
Confirming the comment e-mail address
Using a plugin called comment e-mail verification I now force people to use a real e-mail address when commenting. The process is simple: if you comment for the first time, your comment will be kept in moderation automatically. You'll get a confirmation e-mail with a link in it. Clicking that link will take your comment out of moderation and place it immediately.
The plugin allows you to change the email message sent to the end user as well as some other things, but mostly just works. I use this plugin in conjunction with my own comment hacks redirect plugin, which takes people who comment here for the first time to a special thank you page. This page looks like this: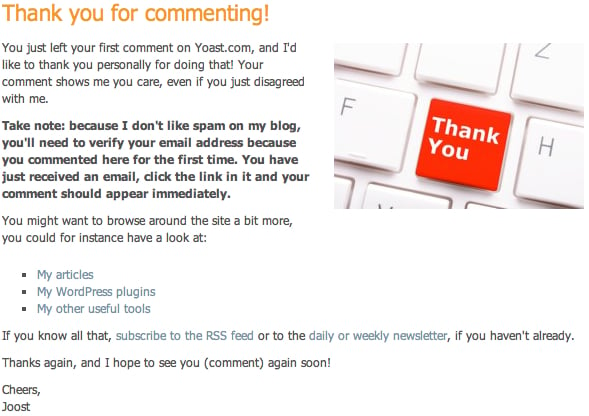 So the process goes like this, when someone comments here for the first time:
Visitor leaves a comment.
Visitor is redirected to the comment thank you page, which states, among other things, that they have to confirm their email address.
Visitor clicks the confirmation link in his / her email, which takes the comment out of moderation.
The visitor is redirected immediately to the comment.
Funnily enough, I now see visitors leave the same comment twice. Once with a fake e-mail address, and then later on with a real e-mail address.
Next to the measures above, I've also added some statements to my Comment Rules, above the comment submit button. I now strictly adhere to these rules:
Keywords instead of a real name? Comment gets deleted.
A fake name instead of your real name? Comment gets deleted.
A comment "signature" (with or without links)? Signature gets deleted first time, second time, comment gets deleted.
I'm curious though, most of you reading this are bloggers, what do you do to prevent not just comment spam but annoying comments and commenters?