Yoast SEO for Drupal
Easily optimize your Drupal site with one plugin
Content Analysis functionality to streamline your site
Optimize your post title and meta description & preview your snippet
SEO for Drupal brings the core functionality of Yoast SEO to the users of Drupal 7. This core functionality includes management and optimization of content and meta data (like titles and meta descriptions).
Features of Yoast SEO for Drupal
Yoast SEO for Drupal allows you to set a focus keyword, which is used for content analysis. The Yoast SEO for Drupal module will run more than 10 checks on your content and will provide feedback on every point. This will help you to optimize the page for better ranking.
Using this module you can easily optimize your post title and meta description, and the snippet preview functionality shows you what it would look like in Google. It also shows how it would bold in your search results, and you have the chance to control everything you want about your listing in Google: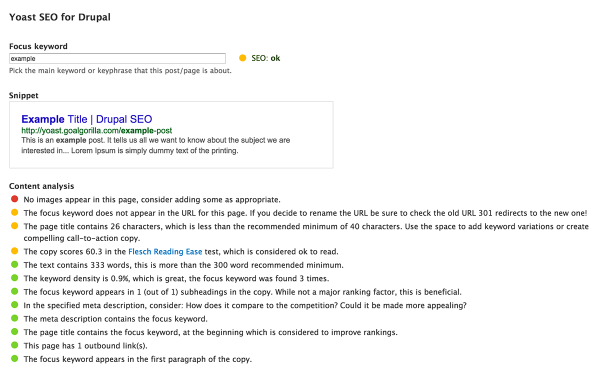 As you can see, the plugin automatically tests the most important area's of your content for usage of the focus keyword, so you can truly optimize your page for the term you need.