Yoast SEO assessment: Taxonomy text length
What does the taxonomy text length check do?
Every page on your site needs to contain a certain amount of words to be able to rank. How long your text should be, depends on the kind of page: taxonomy pages require (slightly) less content than posts, whereas cornerstone content should be exhaustive and therefore needs to contain a significant amount of words. This check calculates how many words you've added on a page and whether it contains enough words to properly rank.
Make sure to write at least 250 words on your category or tag pages. Otherwise, your page will have too few words in order to rank in the search engines. As these pages are important for your website, they need to be of high quality and contain enough copy.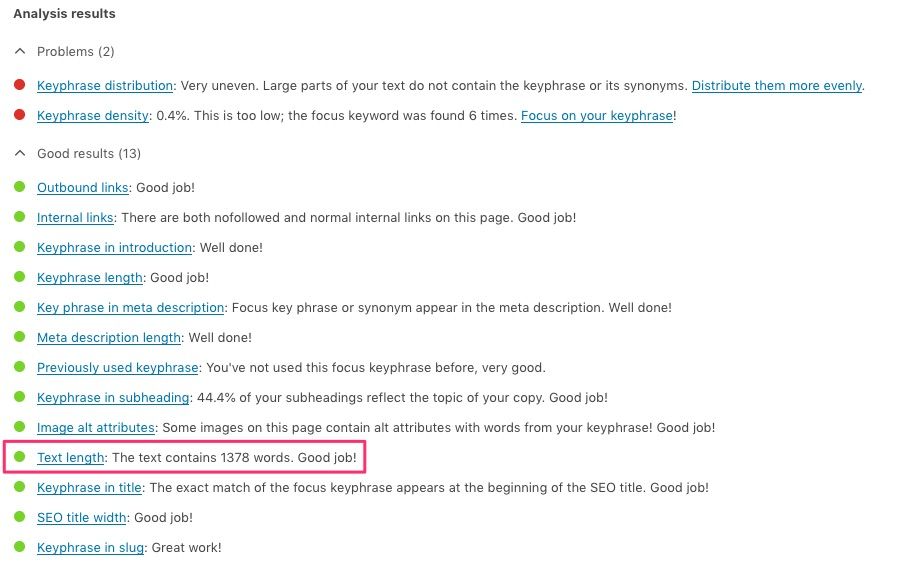 Why is taxonomy text length important for SEO?
There are several reasons why taxonomy text length is important for SEO. First of all: pages that contain very little (textual) content are more likely to be considered of little value to users, and therefore 'thin content' pages, by the search engines. Furthermore: the longer your text is, the easier it is for search engines to determine what it's about, especially if it's well-optimized for your keyphrase or phrases. You'll probably have more headings, more links, and more pictures containing the keyphrase. Finally, writing a longer text makes it more likely you'll rank for multiple long tail variants of the keyphrase you optimized your text for. After all, in a lengthy text, you probably discuss multiple subtopics. Your article will have a chance to turn up in search results for all these long tail variants.
Do you want to improve your taxonomy text length?
To improve your taxonomy text length, write more quality content for your post, page, taxonomy page or cornerstone content page. Good quality texts are readable, well structured and contain original content. The text length check will let you know when you've added a sufficient amount of content.
Learn all about creating awesome copy for your taxonomy pages
Optimize your site for the right keywords for your users
Avoid dead links in your site
Get previews for sharing on Twitter and Facebook
Content quality and link suggestions as you write
More info