Blog post images: Why use them and where to get them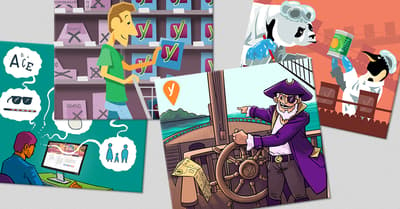 When you think of a blog post, you're probably picturing a page with lots of written text on it. Which isn't wrong. In the early days of blogging, most blog posts were just that. Lots of written text. Without too much design to it or images to break the text up. Nowadays, most of us can't imagine publishing a new post without any images in it. Certainly, from an SEO perspective, the text in your blog will always play an important part. But the use of images will help your post attract more attention on Facebook, Twitter and even Google. Here, we'll explain why you should use images in your blog posts and where you can get them from!
Before we dive in, if you want to learn more about image SEO and other essential SEO skills, you should check out our All-around SEO training! It doesn't just tell you about SEO: it makes sure you know how to put these skills into actual practice!!
Why you should use images in your blog posts
Let's start by saying that using images doesn't mean that we want you "dress up" your post with cute pictures that take away from the message you're trying to get across. When used right, images can help readers better understand your content. Like it's been said a few times before, a picture is worth a thousand words. And although this probably doesn't apply to Google, it can apply to your readers. If a visitor has to choose which site to visit on Pinterest or Facebook, they will choose one with an image that's compelling to them. Sure, your call to action or social text will have to persuade them as well, but if you don't use high-quality images, they very well might skip your blog post.
There's another reason why you should use proper images in your blog posts. Google's visual search is getting increasingly important and can no longer be ignored if you want to stay visible in the search results. When you have high-quality and optimized images, your images could rank first when people perform a Google (image) search. This helps you bring more visitors to your site and you don't have to have a photography site to appear in these results!
Tips on how to find images for blogs
If you choose an image for your post, make sure that it actually fits the topic of your blog post. Is your blog about cooking and do you love taking pictures of the meals you've made? Great! If these pictures are suitable for your site, make sure to use them. Or if it suits your brand, you could also think about hiring an illustrator. Original images are always a great option when it comes to adding images to your blog post. But if shooting your own photos or hiring an illustrator both aren't possible right now, don't fret. You can also use stock photos. You won't have to invest in photography courses, hire a professional photographer or worry about creating the right images yourself.
Option 1: Shoot your own photos
If you really want to use original pictures, consider creating your own photos. Taking your own photos ensures that you'll show an original picture, one that can never be found on another blog. On top of that, this allows you to shoot a photo that truly fits the content of your post. If you're blogging about your day-to-day life, taking your own pictures is definitely the way to go. That also goes for food blogs. For a company blog or a technical blog, or for Yoast.com for that matter, it's can be much harder to take pictures that actually fit the content of the posts you're writing.
Option 2: Hire an illustrator
If you have specific ideas about what illustrations for your blog should look like, but you're not able to create or buy them yourself, you could also work with a professional illustrator or team of illustrators (as we do at Yoast). We would like to emphasize that you really need a budget for that, but that it could pay off. Working with a professional illustrator will get you original and on-topic images. Above that, if you work with the same illustrator for multiple blogs, you will also get some continuity between posts and within your blog. People will recognize your posts just by looking at the illustration. Which works great for branding.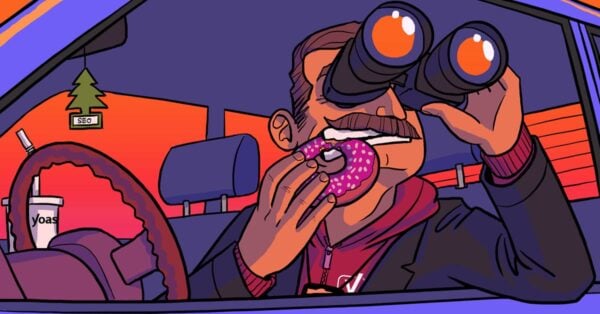 If you see illustrations you like (e.g., on social media), make sure to check out who the artist is. Googling the name will probably lead you to their portfolio (if they did their SEO well!). Lots of illustrators and artists work freelance. You can also find collectives of artists offering their services on Facebook.
Option 3: Use stock photos
If you cannot create your own photo for whatever reason, there are a lot of stock photo websites you can grab images from. However, you cannot just use any photo you find on the internet. These belong to someone else and you need to have the photographer's permission. The same goes for illustrations. These images have copyrights and should not be used without the consent of the creator. You don't want to see your blog post on someone else's blog. A photographer does not like it when their photo is published on your site without permission, and this could lead to getting a claim.
But if you can't just search for images on Google, where should you find them? Luckily, there are quite a few stock photo websites out there containing pictures you can either buy or use freely. Always check the licenses described on the website to make sure you're permitted to use them and whether you should credit the images used. Also, make sure your stock photo of choice isn't used by everyone as this doesn't reflect well on your brand. Now, there are lots of options out there, so let's go over a few to give you a starting point.
Unsplash.com
A great source for blog post images is Unsplash. The images on here are gorgeous, the website is easy to navigate and the licensing is very clear. All photos published on Unsplash, are free to be used for commercial and non-commercial use. You can even alter the images without needing to give the photographer credit. This is a great site to find an image that you can use in your blog post as the website has a lot of images on different topics.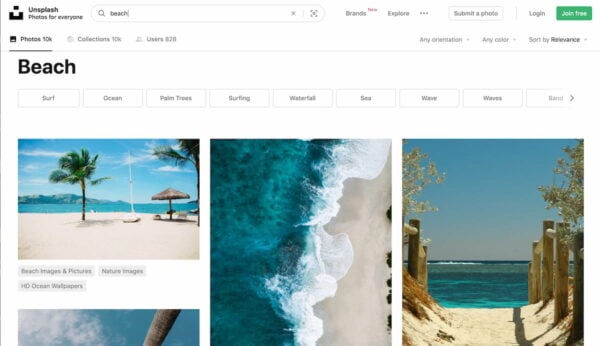 Pixabay.com
Another option is Pixabay, that has both paid and free images. A lot of the images on there do not require crediting the photographer. If you don't have to credit and you can alter the image, you will find that the image is released under Creative Commons CC0. In addition to photos, you can also find illustrations, vectors, videos and even music on Pixabay.
Foter.com
A third website is Foter, which claims there are over 335 million free stock photos on its site. You can explore by category or simply conduct a search. Each and every photo will display the license under which it's listed. Some photos require credit to the photographer, some photos may not be altered and some may not be modified. This can make it a bit harder to find a suitable picture here, especially because you have to make sure you comply with the right license.
These three websites will provide you with a wide variety of images. But if you're still not finding the right image, you can also check out Yayimages, shutterstock, librestock or other stock photo websites that you know of. Just make sure that the website is reliable and that you're crediting the way you're supposed to.
What if my blog is about a subject I can't find an image for?
In the unique case that your blog is all about cats, you will probably not have too much trouble finding images for your blog posts. But what if you write about blogging or programming? Or a more abstract topic that isn't that easily translated into an image? Be creative! You're a blogger, a writer, you can be creative with the images you use. For that blogging article, use a (stock) photo of a laptop. For a more abstract topic, think of images that relate to this topic or use illustrations. Remember: the image doesn't need to replace your article, it's there to enhance it and grab your reader's attention.
If you really can't think of a suitable image for your blog post, there is another option: Have you ever heard of Canva?
Canva is amazing
With Canva, you can create designs for every need in your browser. It holds a lot of free designs and you can add text, stock photos (or your own photos) and other elements. There are templates for Pinterest, Facebook, Instagram, posters and more. With these designs, varying from drawings to quotes and photos, you'll be able to create your very own and unique image for your blog post. It's definitely worth checking out.
There's a photo for everything
Trust me when I say there's a photo for everything. Have you ever checked stock photos for LEGO? There are tons of them, like the one we displayed here. Even the funniest, weirdest or ugliest stock photos can give you the inspiration to write.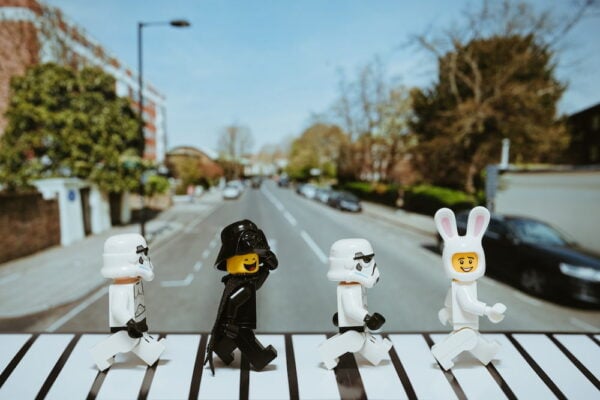 Say thanks
Nowadays, we live in a world where it's very easy to create your own website. Where you use platforms like WordPress, use lots of free plugins and become big without spending too much on your website. If you are one of the few bloggers that make a living out of blogging, that's great! In that case, we do have a request: if you use stock photos, consider thanking the photographer by donating a (small) amount to thank them for their work in making your website better. It's up to you to decide if you want to do this and whether you have the means to do so, but consider it. We as bloggers owe a lot to the wonderful people out there who share their knowledge and resources for free.
A few final words
In this post, we've discussed why you should use images in your blog post and where you can find them. Photos and illustrations make your blog post more appealing and help you get the message across. Especially when you share your post on social media, a nice image could increase your exposure enormously. Make sure to pick or create original images for blog posts, that make you stand out from all the others!
If you have other suggestions for stock photo websites that we haven't mentioned yet, please let us know in the comments.
Read more: Image SEO: Optimizing for search engines »
Coming up next!
Stay tuned

Keep an eye on our site and social media to stay up-to-date.

See where you can find us next »

SEO webinar

12 December 2023

Learn how to start your SEO journey the right way with our free webinar. Get practical tips and answers to all your questions in the live Q&A!

All Yoast SEO webinars »