The context of internal links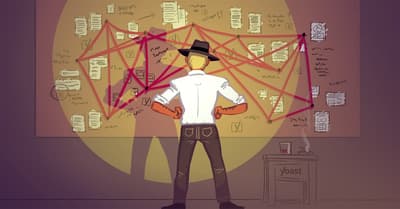 Internal linking should be one of the key focus points in your SEO strategy. It's my favorite aspect of SEO because it's so very actionable. The Yoast SEO Premium plugin helps you set up a great internal linking structure very easily. So let me explain the importance of a great internal linking structure. Learn how to get your site indexed by Google AND get a good ranking.
Context is the SEO word of 2018
A lot of information about how Google works comes from patents. Whenever Google comes up with new technology, the next step is often to claim a patent. Studying these patents gives us lots of information about what Google is up to. These days, what keeps coming up is context. Bill Slawski, an SEO veteran, calls context the search term of the year.
In my opinion, Bill is right. Context is what helps Google make sense of the world around us. For instance, Google does not rank a text on the term 'ballet shoes' just because you use the word 'ballet shoes' in every other sentence. Google is getting better and better at figuring out what a text is about and how to fit it in the grand scheme of things. Google can read texts, so understanding of the context, synonyms, related words and concepts becomes critical. My post about related entities contains some more thoughts on this matter.
The context of internal links is important
The context in which we embed internal links is also becoming increasingly important. Google can determine whether or not links are useful to a reader, on the base of the text in which we've embedded these links. Relevant links are helpful for the user. Links that make sense will help with rankings of a post. If a post has lots of good contextual links from other pages, it will have a higher chance of ranking. So the context of a link, for example, the sentence in which we use a link is crucial for Google to establish whether or not a particular page should rank well in the search results pages. Text links within blog posts are, therefore, more valuable than random links in a footer.
Internal linking matters in two ways
Internal linking is imperative for SEO because of two reasons. For one, it is essential to get your site indexed. As Google crawls links, you'll need links to every post and page on your site to make sure that Google comes around often enough to get your site saved in the index. Two, and more importantly, you need internal links to get your site ranked well. And that's where the context of the internal links comes in. Links embedded in a meaningful context will help rank your site more than links in the footer of a text.
Internal links are a necessity to get your site indexed. The context of internal links is essential to get your site ranked — and how it gets ranked.
Yoast SEO helps with internal linking
Linking related content can seem daunting, especially if you've written a lot of articles. The internal linking tool of Yoast SEO Premium will help you set up an excellent, coherent and contextual internal linking structure. Our internal linking tool analyzes your texts and uses word analysis to determine which blog posts and articles are on similar topics. We show these suggestions to you in the sidebar, making it very easy to add related text links to these articles in your blog post. We have a couple of posts on why you should use it and how to use the internal linking tool.
Get started right away!
Improving your internal linking structure isn't that hard. You can start enhancing your site today! Yoast SEO Premium will analyze all of your blog posts and makes suggestions for internal links to add to your posts. So, stop making excuses and get to it!
Read more: Site structure: the ultimate guide »
Coming up next!
Event

December 09, 2023

Team Yoast is at Attending, Organizing, Sponsoring WordCamp Ahmedabad 2023! Click through to see who will be there, what we will do, and more!

See where you can find us next »

SEO webinar

12 December 2023

Learn how to start your SEO journey the right way with our free webinar. Get practical tips and answers to all your questions in the live Q&A!

All Yoast SEO webinars »