The first step in every content SEO strategy should be executing keyword research. In this ultimate guide, we'll teach you how to do that.
---
Compare the Free and Premium plugin
While the free version of Yoast SEO gives you a lot of tools to help you do well in the search results, Yoast SEO Premium automates many SEO, making your workload much easier.
How can Yoast SEO help?
Premium
Free
How can I learn more about SEO?
Premium
Get access to all SEO training courses
Free
Get access to the free SEO training courses
Premium
All Premium features are aimed at saving you time. Use the Workouts to start optimizing quickly!
Free
You'll have to put in some extra time and effort
Can I make optimizing my content less frustrating?
Premium
You can use the Premium readability analysis
Free
You can use the readability analysis
The wrong page is ranking for some keywords!
Premium
Use the internal linking features to make sure Google knows which pages are most important!
Free
You'll have to find related pages manually, and link them manually, to create an internal linking structure
I have a lot of broken pages (404s)
Premium
Automatically redirect pages you remove, and easily manage your redirects!
Free
Manually create redirects for every page you remove.
I need more help using Yoast SEO
Premium
Ask your questions to the 24/7 available support team
Free
Find your answers in the help center or the free support forums
Do I have to use the same keyword all the time?
Premium
You can also use plurals or other word forms, synonyms, and related keywords
Free
You can only use 1 keyword and word forms are not supported
How do I keep track of all my pages and posts?
Premium
Get a warning when your most important pages haven't been updated for six months.
Free
Keep track of your pages yourself
I don't know how to add structured data
Premium
We add all your structured data automatically!
Free
We add all your structured data automatically!
Get Yoast SEO Premium premium and level up your keywords research strategy!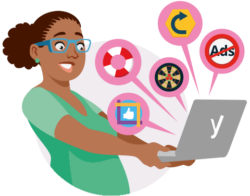 Get access to the Keyword Research training and much more features to improve your rankings!