Senior Manager Marketing
Do you have experience in business/software marketing and an entrepreneurial spirit? Would you like to work at a leading SEO company with a growth mindset? Do you enjoy managing teams to deliver best-in-class marketing campaigns together? Team Yoast is looking for you!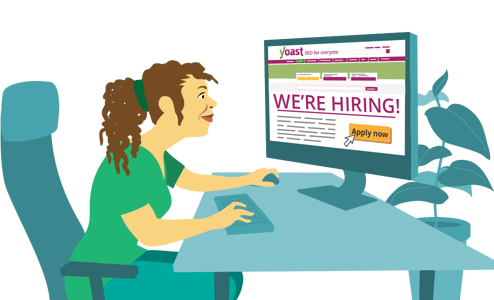 Yoast makes SEO software for over 12 million users worldwide. We produce all our marketing content in-house: copy, videos, images, but also animations and webinars, we do it all ourselves! We're looking for two senior marketing managers who can help grow our user base and unify our marketing teams to make them excel.
You know how to grab and keep our users' attention. In addition to that, you're capable of managing various marketing teams, you can lead, coordinate and set priorities. You can think and act on both a conceptual and strategic level, but you're also good at leading and coaching teams at the operational level.
What will you be doing?
You'll be part of the Yoast marketing department, a team of about x people. Over the years, we have grown rapidly, resulting in many smaller specialized teams. We're now working to organize our marketing department in such a way that there is more unity within the department. Therefore, there will be a lot of room for you to shape your own role. You'll work together with 2 other managers, you'll manage various teams and you report to the head of marketing.
You translate the business strategy into marketing strategies and a tactical plan for the operational teams.
You manage the complete marketing process and ensure that our teams, such as blog, product marketing, social and email work together in an optimal way.
You set up marketing strategies together with colleagues.
You evaluate all marketing actions based on data and research and give recommendations accordingly.
You manage various marketing teams and are one of three managers of our marketing department.
Who are you?
You work and have knowledge at an academic level.
You have experience in managing marketing teams and setting up processes. You can provide leadership in a coaching way and stimulate people to get the best out of themselves and their team.
You're a fast learner and easily familiarize yourself with a new organization and the associated knowledge.
You're not afraid to shape this role yourself, as it's not set in stone yet. You also dare to give your opinion.
You have a helicopter view and know how to set the right priorities.
You have a flexible attitude, you can switch context quickly and you're familiar with agile working.
You're very proficient in Dutch and English, both verbally and in writing, and you have strong communication and writing skills.
You may not tick all the boxes above. We feel you! But if you recognize yourself in most of it, we hope you'll take the step to apply.
What we're offering
A challenging job in a fast-growing, dynamic, ambitious, and international atmosphere. Working at a company that impacts the web.
A monthly salary of € 4000 – 5250 (on the base of 40 hours a week) depending on experience.
25 vacation days (on the base of 40 hours). Next to that, you'll get five volunteer days which you can spend helping out at the local soccer club for example. Or to supervise a school trip of one of your children.
You'll be able to spend 10% of your salary on education.
A bonus scheme.
We have a great pension plan, which is fully paid by Yoast.
Exercise and stay fit! We have our own gym and a personal trainer!
We have a really fun (slightly crazy) company culture with lots and lots of team-building activities. The know-your-colleagues-quiz, lots of celebrations and LEGO-building days, and many more.
The opportunity to learn a lot in a short time, at one of the leading SEO companies.
Procedure
The application process consists of three, maybe four, parts: an introductory job interview, one or two practical interviews, and a final meeting. These steps might take place on multiple days. A social media screening might be part of the procedure.
Note: only applications with a cover letter will be considered.
(Our recruitment code applies to all applications)
Not what you were looking for? Take a look at our other job openings:
About Yoast
At Yoast, we optimize websites. Not just one aspect of websites, but every aspect. We make websites more usable, easier to navigate, faster and more reliable. In other words: we make websites work. For the owner and the visitor. The added bonus is that if you do all that right, a website becomes easier to find too. Read all about Yoast »
---
---