Remote support engineer Spanish
Are you experienced in email support? Do you feel energized when you can help others? Can you express your smile, enthusiasm and empathy in your written communication? Then join our support team!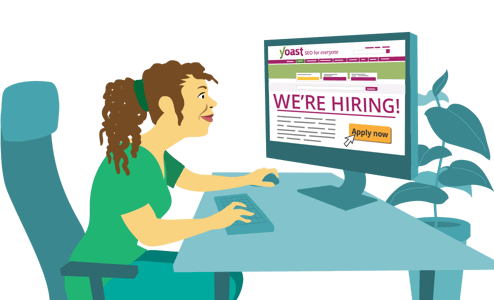 Yoast is one of the biggest in the world of SEO and WordPress, with over 12 million users worldwide. Yoast is growing fast and that's why we're looking for others to join our support team!
What we're looking for
You love customer support. Helping people is your second nature and you're well aware that not everyone is as skilled as you are. Your goal in every conversation is to help the customer reach their goal. Besides, it is important that you process the question or request the first time right. Even if this requires research and learning on your side. You realize that you're the face of Yoast, know that people love smiling faces and can express that in your written communication. You know how to empathize with someone and you've got an eye for detail. Information that's well hidden between sentences doesn't stay hidden for you, and you care about every dot and comma in your replies.
What will you do?
You'll be answering questions over email. You'll also have access to our knowledge base, internal support channel on Slack, GitHub/Jira, and testing environment. Of course, you'll be paid a decent hourly rate, we'll try our best to teach you everything we know and you've got the best colleagues. You'll find yourself a part of a friendly international team, located all around the world, who are ready to share their knowledge. Customer satisfaction and personal growth are key.
You'll be engaging with our users and customers mainly via social media and in a lesser volume, via email. You know what the Yoast brand stands for and how to engage with our customers in a fun and creative way. You'll find yourself a part of a friendly international team, located all around the world, who are ready to share their knowledge. Customer satisfaction and personal growth are key.
Who are you?
You're fluent in English (proficiency level 4 / C1, or up).
You're fluent in Spanish (proficiency level 4 / B2, or up).
You're enthusiastic, engaging, creative and well-organised.
Having experience with, and an interest in, WordPress and Yoast, are a huge advantage when applying.
Preferably, you also have experience with other content management systems.
The skills and attitude to learn our company culture quickly and translate that in your written communication via email.
You can work with GitHub, Jira, Confluence, HelpScout, Zendesk, Coosto or are willing to learn.
You're not afraid to ask colleagues for advice in a (slack) channel.
You're flexible and available on Saturday and Sunday.
You're available on weekdays during your training period (approx. 4 weeks).
Living in the UTC -4, UTC -5, UTC -6, UTC -7, UTC -8 (American) time zone is required.
What we're offering!
A chance to work on some of the most-used web software in the world, currently used by more than 12 million websites!
Of course: a competitive hourly rate.
A friendly, challenging, and innovative work atmosphere.
An opportunity to learn a lot and learn it fast in one of the leading SEO companies.
You'll join a team of skilled, experienced, enthusiastic and most importantly, passionate colleagues.
Weekly meetings to improve communication and give team members feedback on their work.
Remote team building events, like a compliments day, or a Lego building day amongst many others.
Are you interested? Please send us your application! Note: only applications with a motivation letter will be considered. The application process consists of three parts: an introductory job interview, one practical interview, and a final meeting. These steps will take place on multiple days. A social media screening might be part of the procedure.
(Our recruitment code applies to all applications)
Not what you were looking for? Take a look at our other job openings:
About Yoast
Yoast consists of a rapidly growing team of internet enthusiasts. We're a start-up with a very good international reputation when it comes to SEO and website optimization. Multiple times per week we publish free SEO and/or web development related articles on our blogs. We organize MeetUps and speak at conferences.
At Yoast, we are very community-minded and highly value Open Source. We provide both free and paid plugins for WordPress, NEOS, and TYPO3, and are always looking to expand our field of work. Besides software, we sell online (SEO) courses in our Yoast Academy.
Our company is continuously in development. We create a lot of new products. Next to ongoing improvements of our Yoast SEO plugins, we publish courses on a frequent basis. The development of new products is mostly done internally and is a real team effort. Our team consists of authors, illustrators, marketeers, developers, and researchers. Together, we build new innovative SEO products!
---
---