Product manager
Yoast is growing! And we're searching for an ambitious product manager! Do you want to work on software that is used by over 12 million people worldwide? Do you want to help us reach an even larger audience by improving our products? If you do, then we're looking for you!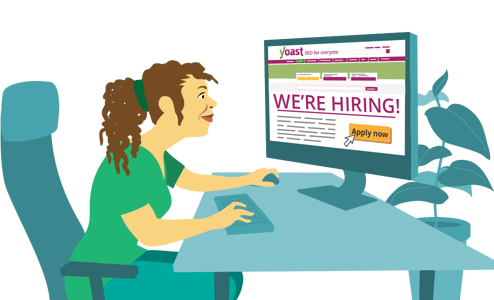 About the job
As product manager, you'll be part of a multidisciplinary squad, consisting of developers, a tester, and a designer. Together you'll work on pushing Yoast SEO forward. Your squad will be partly based in the Netherlands, and partly in other places within a similar time zone. It's your job to keep your squad laser focused on their goals and to make sure that every feature is well thought out and described.
You communicate with your squad, our product marketers, our support team and of course management to make sure that everything is going as planned. And when it doesn't go as planned, you adjust your priorities if needed, and move on!
You'll be part of a squad and of our product team, where you'll work with and help other product managers. Together we continuously improve how we get features from ideas to being shipped!
About you
Do you love diving into details? And do you care deeply about creating features that users love to use? Can you translate a good idea into user stories, and guard that users can actually understand how to use a feature? Can you do all that while making sure dependencies are met in different directions? Then this is the job for you!
To summarize
You enjoy working as part of a close-knit team. Together with your squad members, you're responsible for fleshing out product ideas, bringing them to life and shipping them to our users.
You are passionate about product management and want to ship that feature.
You are able to create user stories, but can also work with a designer to create a quick proof of concept.
If you have experience with WordPress and the field of SEO, we also consider that a bonus.
You enjoy getting in touch with our users. Their happiness is your happiness!
You want your contribution to be meaningful and have impact. You don't shy away from taking responsibility.
Do you speak and write English easily? Perfect!
What we're offering
A challenging job in a fast-growing, dynamic, ambitious and international atmosphere.
Working at a company that impacts the web.
A salary of € 2.750-5.000,- (on the base of 40 hours a week) depending on experience.
25 vacation days (on the base of 40 hours). Next to that, you'll get five volunteer days which you can spend helping out at the local soccer club for example. Or to supervise a school trip of one of your children.
You'll be able to spend 10% of your salary on education.
We have a great pension plan, which is fully paid by Yoast.
Exercise and stay fit! We have our own gym and a personal trainer!
We have a really fun (slightly crazy) company culture with lots and lots of team building activities. The know-your-colleagues-quiz, lots of celebrations and LEGO-building days. Because of Covid a lot of these things are online now!
The opportunity to learn a lot in a short time, at one of the leading SEO companies.
Are you interested? Then respond before August 15, 2021. Note: only applications with a cover letter will be considered. The application procedure consists of three interviews. Do you have questions? We'll be happy to answer them. Please send an email to jobs@yoast.com.
(Our recruitment code applies to all applications)
Not what you were looking for? Take a look at our other job openings:
About Yoast
Yoast consists of a rapidly growing team of internet enthusiasts. We're a start-up with a very good international reputation when it comes to SEO and website optimization. Multiple times per week we publish free SEO and/or web development related articles on our blogs. We organize MeetUps and speak at conferences.
At Yoast, we are very community-minded and highly value Open Source. We provide both free and paid plugins for WordPress, Drupal, Magento 2 and TYPO3, and are always looking to expand our field of work. Besides software, we sell online (SEO) courses in our Yoast Academy.
Our company is continuously in development. We create a lot of new products. Next to ongoing improvements of our Yoast SEO plugins, we publish courses on a frequent basis. The development of new products is mostly done internally and is a real team effort. Our team consists of authors, illustrators, marketeers, developers, and researchers. Together, we build new innovative SEO products!
---
---