Lead developer
Are you an ambitious developer who wants to work on software for 12 million users? Are you passionate about open source and improving the web? 
Do you enjoy complex projects and are you always keen to embrace a challenge? Do you thrive in a quickly changing environment? If so, then we're looking for you!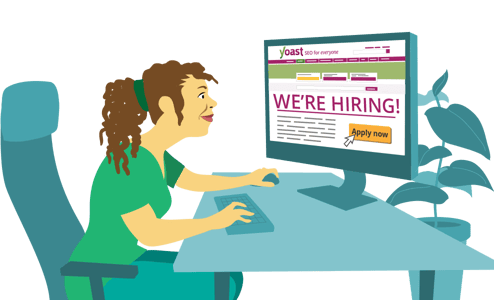 As lead developer, you'll be part of a multidisciplinary squad, consisting of developers, a tester, a product owner and a UX designer. Your squad will be partly based in the Netherlands, and partly in other places around the world. You'll work closely with other squads, the release lead and Yoast's technical council.
What are you going to do?
You'll be responsible for the technical and professional growth of the developers within your squad:
You have a strong focus on improving the productivity and independence of the devs. With your help, their code quality will become better and more consistent.
You'll take ownership over the technical debt that has been building up over the past 10+ years. You'll come up with proposals to improve the code, and execute those yourself, or assist others in executing them.
When your squad is going to implement a new feature, you'll take the lead in making architectural choices and creating a technical design.
You'll be the manager of the developers in your squad, who motivates and inspires them to keep growing, both on the technical side and the soft skills side.
You'll be part of the development process of the squad. That means you'll write, review and test code.
Who are you?
You have at least 4 years of experience as a software developer.
You are a natural leader and have experience with leading a team.
You can explain complex matters in an accessible way, and guiding less experienced people through technical solutions is your strong suit.
Your communication style is 'straight-to-the-point' and efficient.
You can make connections between complex pieces of information, and can distinguish main issues from side issues.
Because you have to juggle many responsibilities and tasks, you know how to take a helicopter view.
You know how to prioritize, also in high-pressure situations, and use this skill to achieve the best results.
You understand the relation between your colleagues, the process and the architecture, and uses that to enhance the performance of the organization.
Experience with and knowledge of WordPress is a plus.
Experience with PHP and JavaScript is no requirement, but the willingness to learn those languages is.
You speak and write English fluently. You preferably have proficiency level C1 or C2.
Experience with Scrum is a plus.
Living in the UTC-1, UTC, UTC+1, UTC+2 or UTC+3 time zone is required.
What we're offering
A challenging job in a fast-growing, dynamic, ambitious and international atmosphere. Working at a company that impacts the web.
A salary of 3500 - 5000 (on the base of 40 hours a week) depending on experience.
25 vacation days (on the base of 40 hours). Next to that, you'll get five volunteer days which you can spend helping out at the local soccer club for example. Or to supervise a school trip of one of your children.
You'll be able to spend 10% of your salary on education.
A bonus scheme paid out at the end of the year.
We have a great pension plan, which is fully paid by Yoast.
Exercise and stay fit! We have our own gym and a personal trainer!
We have a really fun (slightly crazy) company culture with lots and lots of team building activities. The know-your-colleagues-quiz, lots of celebrations and LEGO-building days. Because of Covid a lot of these things are online now!
The opportunity to learn a lot in a short time, at one of the leading SEO companies.
The application process consists of three parts: an introductory job interview, a practical interview, and a final meeting. These steps might take place on multiple days. A social media screening might be part of the procedure. Note: only applications with a cover letter will be considered.
(Our recruitment code applies to all applications)
Not what you were looking for? Take a look at our other job openings:
About Yoast
Yoast consists of a rapidly growing team of internet enthusiasts. We're a start-up with a very good international reputation when it comes to SEO and website optimization. Multiple times per week we publish free SEO and/or web development related articles on our blogs. We organize MeetUps and speak at conferences.
At Yoast, we are very community-minded and highly value Open Source. We provide both free and paid plugins for WordPress, NEOS, and TYPO3, and are always looking to expand our field of work. Besides software, we sell online (SEO) courses in our Yoast Academy.
Our company is continuously in development. We create a lot of new products. Next to ongoing improvements of our Yoast SEO plugins, we publish courses on a frequent basis. The development of new products is mostly done internally and is a real team effort. Our team consists of authors, illustrators, marketeers, developers, and researchers. Together, we build new innovative SEO products!
---
---