And the winners are….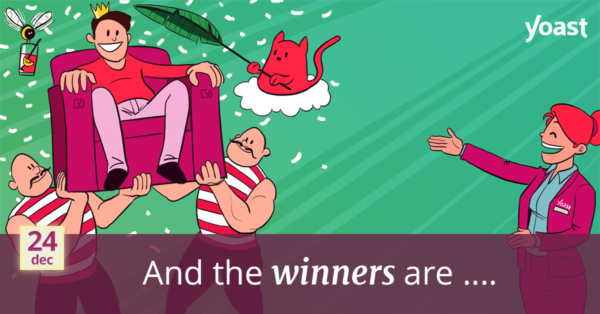 It's time to announce the lucky winners of the different contests and give-aways during this holiday calendar!
First of all, we asked you to let us know how many blog posts we had published in 2019 (so far). The right answer was 227 and the lucky winner of the plugin of their own choice is: Thomas Culham.
In the next contest, we asked you to let us know what our best-selling course of 2019 was? The right answer was the SEO copywriting course! And, Julie Tarney is the lucky winner! She wins one-month free access to all the Yoast SEO academy training courses!

And, this YoastCon 2020 challenge was extra special. As we've picked 40 lucky winners!

Didn't win? No worries, stay tuned: there is another YoastCon challenge coming up soon!
We've contacted the winners via private message.