Getting Started with the Internal Linking Tool
The Internal Linking Tool is the feature in Yoast Premium that allows you to work on your internal linking structure. It helps you identify the most relevant posts in order to create links to them. Site structure is vital for users and SEO, it helps users navigate your site easily and helps Google identify your most important content.
Where is the Internal Linking Tool?
The Internal Linking Tool is located in the sidebar of your page and post editor.
The sidebar will look slightly different depending on whether or not you are using WordPress 5.0 and above.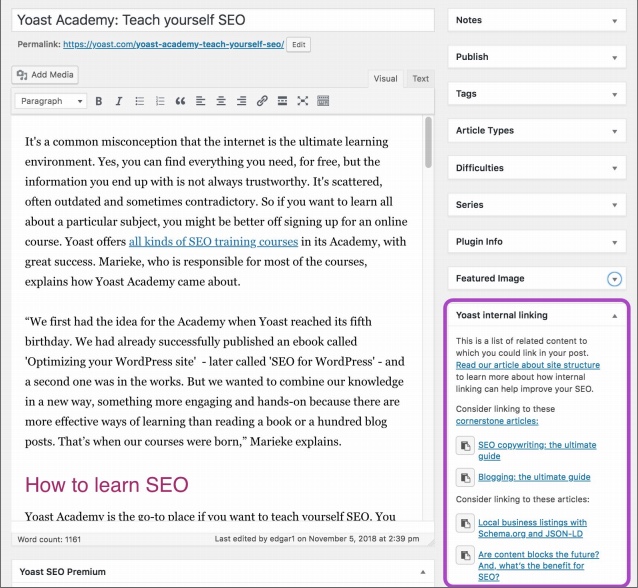 Getting Started
Before the Internal Linking Tool can get to work, Yoast Premium needs to scan your content. Go to SEO → Tools and click the Analyze your content button.

A few things to remember:
You only have to analyze your content this once.
It may take some time if you have a lot of content.
Keep the browser window open while the analysis is running.
There is no option to pause the analysis, but you can click Stop Analysis and come back to it later.
Once complete, you should see a green checkmark.

How to use the Internal Linking Tool
Now you are ready to start using the Internal Linking Tool. We have an in-depth guide about How to Use the Internal Linking Tool. Put simply, as you write posts, you will see related posts to link to. You can easily drag and drop a link into the editor.
Related