My relationship with Gravity Forms is a long standing one. A few years back I developed my own WordPress contact form plugin, which, admittedly, isn't as shiny anymore as a WordPress plugin should be. So when I needed a more advanced form plugin, I started looking around and quickly found Gravity Forms. It was one of the earlier premium plugins for WordPress, at least one of the earlier ones to stick with the GPL.
I loved it, it made it so easy to create complex forms. I missed some features back then, like a widget, so I built it. Later on, a widget was added to the Gravity Forms core. Multi page forms weren't there back then and for some reason I needed them hard then, they're there now but I'm not currently using them.
Then a while ago, I went through some issues with Gravity Forms, it didn't seem to work as well as it should, at least, I blamed it on the plugin and switched to Wufoo, a hosted forms service (which I also love by the way). After a while, I found out the email part of my server was just configured quite poorly and learned a thing or two about email reliability. I didn't immediately switch back to using Gravity Forms, until I needed a way to have people submit content from the frontend. Because Wufoo is hosted elsewhere, it doesn't have access to my WordPress database, whereas Gravity Forms does.
So, long story short, I turned it back on and was impressed with the progress they'd made in the time in between. I'd only been "off" Gravity Forms for about 5 or 6 months and they'd managed to add a plethora of useful features in a way that wasn't annoying to me in the UI. Next to that, it turned out to work awesomely, hence this favorable review.
Usage of Gravity Forms
Gravity Forms is quite easy to use. It allows you to create multiple forms, both simple ones and extremely long and complex ones. Whether you need to just get some address details or actually want people to submit posts from the front end: it's all possible. You'll usually start in the forms overview page, which looks like this (as you can see I've had "a few" form submissions since starting to use Gravity Forms):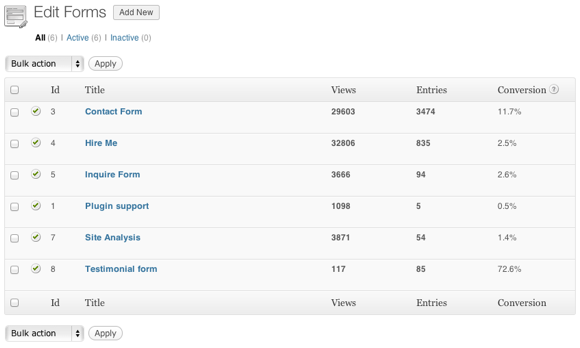 Then you go to the individual edit form page: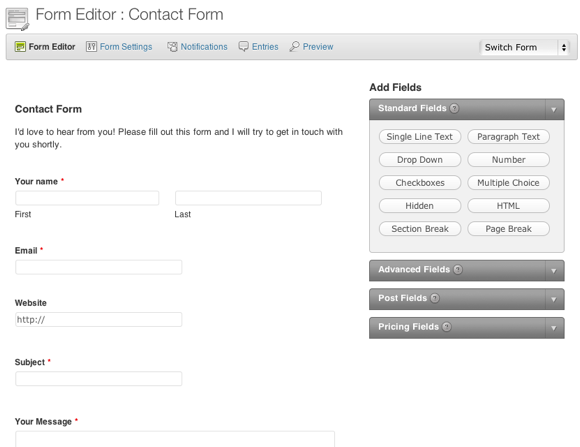 There are quite a few different fields, from normal lines of text, radio buttons and dropdowns, to complex combinations like an address field, email inputs, phone numbers, dates etc. You can also choose to have a field insert a post into your database, where needed with added custom fields (this is what I use for my testimonials by the way).
Once the form is complete, you're able to set up notifications for both yourself / your team and the user submitting the form using all the data the user entered. When needed, you can also connect your forms to a couple of external services using add-ons. They support:
MailChimp (email / list management)
Campaign Monitor (email / list management)
Aweber (email / list management)
Freshbooks (invoicing)
PayPal (payments)
Twilio (SMS)
User Registration (to create new users in your WordPress more easily)
Note that for most of these add-ons you'll need a developer license of Gravity Forms, but it's highly worth it to get that anyway.
Gravity Forms Tips
Some of the things that might not be obvious but can really help when you're using Gravity Forms:
I currently use and really like the custom post type extension for it, available as a plugin on WordPress.org for my testimonials.
There are more pretty cool third party extensions to Gravity Forms, just check out the tag on WordPress.org.
On the advanced tab for each form item, there's a "conditional logic" bit. While it might take some time to figure out how this works if you're not used to these things, it can really help make your form a lot more powerful.
In the settings for a form, you can schedule the form to only appear during a certain time frame, for instance for competitions. You can also limit the number of submissions, very useful when you're using the form as a signup form for an (online) training.
Support for Gravity Forms
Support is delivered through Gravity Form's own help site, Gravityhelp. There are forums there with a lot of active users next to the core support team. I've found that any question I've had was easily answered by just browsing their extensive documentation and the forums. They've also shown to be quite fast in answering support emails.
Code Quality
In the past, the code quality for Gravity Forms was good but I could find stuff to improve, the code I see now though, is of higher quality than 99% of the plugins out there. So, if you need a forms plugin, I see no reason for not using Gravity Forms. Go get it here.