Yoast SEO 18.0: Correcciones y mejoras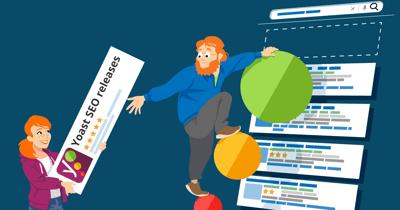 Después de lanzar Yoast SEO para Shopify la semana pasada, ha llegado el momento de una nueva actualización de nuestro plugin original de SEO para WordPress. Con la temporada de fiestas ya detrás de nosotros y el enfoque en Shopify, Yoast SEO 18.0 es una actualización más pequeña que trae varias correcciones y mejoras. ¡Descubre lo que puedes esperar!
Yoast SEO 18.0 sale hoy
Para Yoast SEO 18.0, hemos realizado mejoras para aumentar el rendimiento del plugin, además de varias correcciones en la sección de vistas previas sociales y la implementación de schema. Puedes encontrar la lista completa de correcciones en el changelog.
Compatibilidad japonesa con los complementos de Yoast SEO
En Yoast SEO 17.9, hemos añadido un nuevo idioma a nuestra lista. No cualquier idioma, ¡el japonés! Es un idioma complejo que necesita mucho trabajo para funcionar correctamente. Por suerte, nuestro equipo de brillantes lingüistas lo ha conseguido, y ahora todos los japoneses pueden disfrutar de análisis de legibilidad y SEO adaptados a su idioma.
En esta ronda de actualizaciones, mejoramos el manejo del idioma japonés. Además, nos hemos asegurado de que nuestros otros complementos funcionen ahora perfectamente en el idioma japonés. Hemos actualizado los complementos Local SEO, WooCommerce SEO y Vídeo SEO.
Pequeñas actualizaciones para tu herramienta favorita: Duplicate Post
Yoast Duplicate Post es una herramienta esencial y gratuita para los propietarios de sitios web y gestores de contenido ocupados. Te permite duplicar páginas existentes con un solo clic para ayudarte a transformarlas en otras. También cuenta con una revolucionaria función de reescritura y republicación que todo el mundo debería utilizar. En la última versión, hemos corregido varios errores para que el plugin funcione aún mejor.
Actualiza ahora a Yoast SEO 18.0
Eso es todo para esta versión de Yoast SEO. Actualiza hoy a Yoast SEO 18.0 y ponte a trabajar en tu sitio. Pronto habrá más actualizaciones.
Go Premium and get access to all our features!
Premium comes with lots of features and free access to our SEO courses!
Coming up next!
Event

June 08 - 10, 2023

Team Yoast is Attending, Organizing, Speaking, Sponsoring WordCamp Europe. Click through to see who we'll be there, what we'll do there and more!

See where you can find us next »

SEO webinar

20 June 2023

Our head of SEO, Jono Alderson, will keep you up-to-date about everything that happens in the world of SEO and WordPress.

All Yoast SEO webinars »