Yoast and our focus on diversity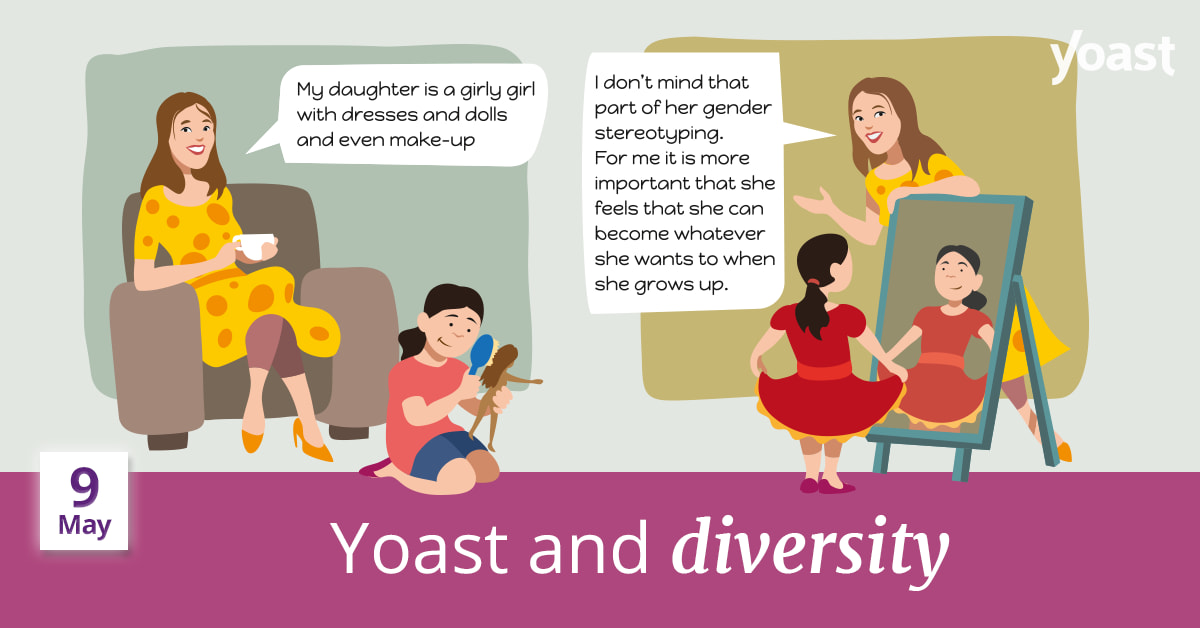 Workplace diversity is incredibly important to us here at Yoast. We actively strive for diversity within the company, but we also make efforts towards greater diversity outside the organization as well. Today our CEO, Marieke van de Rakt, would love to tell you all about it.
In 2018, we launched our Diversity Fund, which pays for travel and accommodation costs for speakers from underrepresented groups to attend events. In 2019, I started the Yoast Empowerwoment project at our offices in Wijchen. The aim of the Empowerwoment project is to empower and coach female employees at Yoast. Also in 2019, I wrote a digital story about diversity and spoke at various WordCamps about the importance of diversity and the origins of stereotyping.
Why is diversity so important?
But why? Why is diversity so important? Why should we even care? First of all, having people from different backgrounds enriches our perspective – it helps us to understand each other better. Diversity enriches our life experience and leads to greater acceptance. Interacting with people from different cultures and backgrounds to yours leads to better understanding and results in less discrimination. So, in the end, striving for diversity makes the world a little bit better.
As well as focusing on diversity because it is morally the right thing to do, a diverse work environment results in better productivity. Appreciating other perspectives also helps with problem solving. Imagine, for example, an all-white, all-male marketing team coming up with ideas to market our plugin. We have a very wide audience who use our plugin, and these white male marketing ideas would possibly not resonate with every group in our audience. Research also shows that companies with more diverse teams are more productive and more successful.
Diversity projects at Yoast
We started three projects aimed at increasing diversity: the Diversity Fund, the Empowerwoment project, and our various talks on diversity.
Diversity Fund
We believe that encouraging diversity among conference speakers and attendees is incredibly important. These events are places we go to learn, get inspired, meet life-long friends, and make significant career or life decisions. The people on the stage influence those outcomes, and the people around us shape that experience.
When the lineup at conferences and events is diverse, everyone hopefully recognizes something of themselves in the people they see in the spotlight. Having these people on stage fights stereotypes. That's crucial.
That's why we started the Yoast Diversity Fund for traditionally underrepresented groups. We cover expenses and travel costs for those who otherwise wouldn't be able to afford to speak at WordCamps or similar conferences.
Empowerwoment project
The second project aimed at boosting diversity is the Empowerwoment project. Although at Yoast we are all sold on the idea of the importance of diversity, we saw that we have more men than women on our management team. In 2019, there was only one woman besides myself in our management team. And five men. That's not even remotely equal. In 2020, we now have three women and six men (baby steps, but making progress).
Of course, not having enough women in key positions is the responsibility of the company. We should be doing better at Yoast. We want to do better as an employer, which is why we started the Empowerwoment project. The project is in part a coaching project, working with our female employees to make them stronger and help them to step up to the plate. The other aspect involves researching our management and company culture. Not having enough women in our management team is something we have allowed to happen and we need to look at why this is. We need to address these questions to prevent this from happening in the future.
Diversity talks and digital story
In 2019, I spoke about diversity, feminism, and prejudices at two different WordCamps. In these talks, I addressed diversity from a sociological perspective. I explained why people have prejudices and what we can do about it. The hope is that the more people understand where prejudices come from and that everyone has them, we can begin to change society, making it more equal for everyone.
While I enjoyed giving these talks at WordCamps, I noticed that not many people attended them. That's why I also wanted to publish a beautiful digital story, which we (and others) can share to educate people further.
Conclusion
Although the situation of traditionally underrepresented groups has improved somewhat in recent years, we do not yet live in a world that offers equal chances to everyone. The causes of inequality are mostly historical and societal. We alone can't change the world, but we can play our part. We can change it a little bit.
Having a more diverse team at Yoast will help our understanding of the world and will diminish discrimination in our offices. And it leads to better productivity, which is great as well. Hopefully, through our Diversity Fund and the diversity talks, we will help to grow understanding and awareness of the importance of diversity throughout the world.