Chocolate croissants for lunch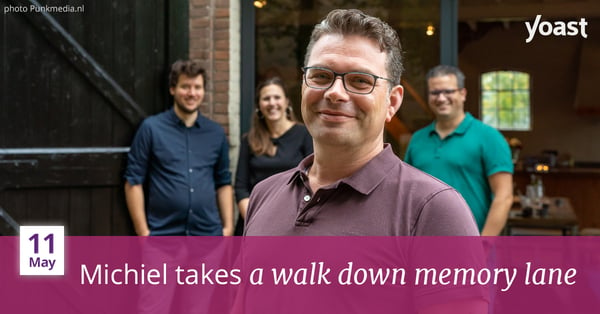 Change is a fact of life here at Yoast. Not just in how the company has grown over the past 10 years, but also in the little things. Like lunch.
Have you ever worked at home, taking just enough time for lunch, but only when you really, really had to eat? Maybe you've worked in an office, packing your lunch every morning, perhaps swapping your peanut butter sandwich for your colleague's yoghurt? Maybe that's still what you do every day in your current job, but for us it was chocolate croissants.
Every day we would go to the supermarket next door and get some drinks and chocolate croissants. After all, they were quick and easy. You get bread with toppings included, and there's no need for a fridge to keep them in. We ate at our desks, simultaneously coding Yoast SEO and reviewing yet another website. That was in 2012 when our office was one room with three desks and decent coffee. We borrowed the furniture – and boy, were those desks ugly!
Fast forward almost a decade and we're having valued staff prepare lunch. Fresh vegetables, tons of toppings, a plethora of drinks to choose from – almost all of it healthy – and everything optimized to minimize waste. There wasn't much waste after our chocolate croissants either, but you can tell the difference, right?
From one person to over a hundred, Yoast has come a long way since chocolate croissants. I recently told someone about the chocolate croissants and how, for me, they reflect part of where we came from as a company. That these croissants mark a period in time when things (for us) were perhaps simpler, easier to grasp?
The response was: "Why did we stop having chocolate croissants for lunch?" And she's right. I need to stop thinking about the past and focus on all the fun, exciting stuff ahead! Here's to the next 10 years!